6 Benefits of Custom Shade Solutions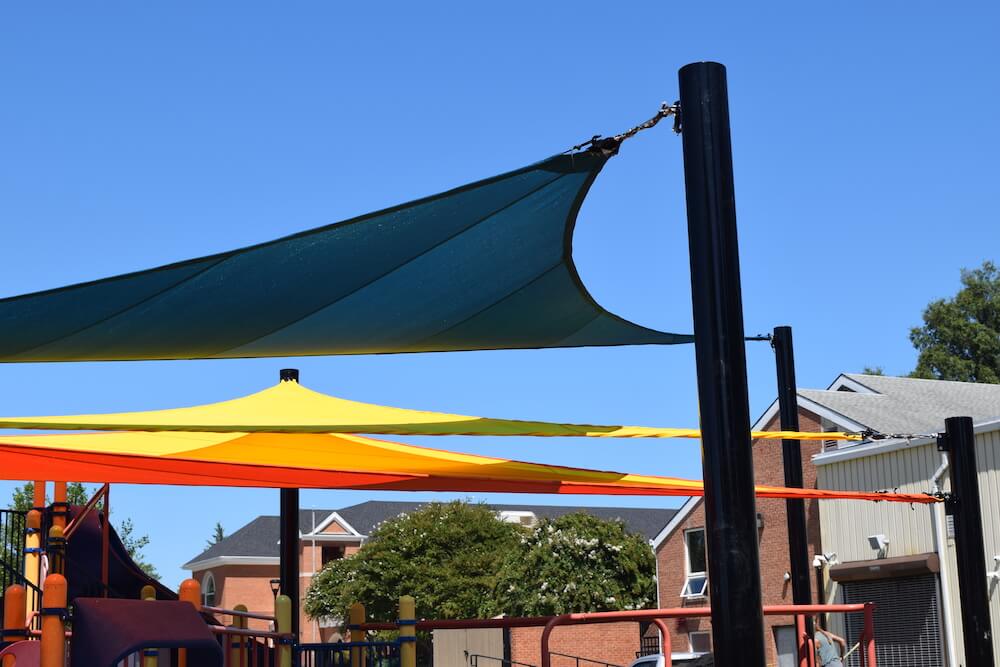 Custom shade solutions have become an increasingly popular way to provide sun protection and outdoor comfort, designed and manufactured in a tasteful way. Whether you're looking for shade protection for your home or business, custom shade solutions have many benefits.
1. Outdoor Comfort: Our premium shade sails and other shade solutions not only provide comfort but also enhance the overall aesthetics of your outdoor space. The combination of high-quality materials and expert craftsmanship ensures a luxurious and inviting end product and atmosphere. With a variety of colors, shapes, and sizes to choose from, we can help you create a truly personalized outdoor retreat that caters to your comfort needs and style preferences. Whether you're looking to create a tranquil spot for reading or a vibrant area for gatherings, our shade solutions can help you achieve it.
2. Ability to Customize: Discover the freedom of customization with our versatile shade solutions. Tailor-made to suit your unique space, our customizable options ensure that your shade solution not only blends seamlessly with your existing outdoor surroundings but also reflects your personal style. The beauty of custom shade solutions lies in their adaptability. From sleek and modern to classic and traditional, the possibilities are endless. Many times, customers don't know what type of shade solution they need, which is why our Shore Shade Sail Team visits you on-site to assess your current challenge and recommend the best potential solution.
3. Safety from the Sun and Weather: Engineered to withstand the elements, our shade solutions utilize innovative materials and technology to provide lasting protection against UV rays. Our commitment to innovation means that our shade solutions are at the forefront of sun protection technology. They're designed to not only block harmful UV rays but also resist fading and wear, ensuring they maintain their functionality and appearance over time. Innovative features such as UV-resistant coatings and breathable fabrics keep you cool and protected, even on the hottest days.
4. Built with High-Quality Materials: Our shade sails and solutions are more than just stylish additions to your outdoor space; they're meticulously crafted for durability. With reinforced stitching, sturdy hardware, and weather-resistant fabrics, our materials are built to stand the test of time. When you work with Shore Shade Sail, you can enjoy peace of mind knowing that your investment in your shade solution will provide long-lasting protection and comfort for your outdoor space.
5. Sustainable & Eco-Friendly: Embrace eco-conscious living with our environmentally friendly shade solutions. Made from sustainable materials, our products provide shade while allowing you to enjoy the outdoors and reduce your carbon footprint. Our products are crafted from eco-friendly materials that have a minimal impact on the environment. And our commitment to sustainability extends to the production process, where we minimize waste and prioritize environmentally friendly practices.
6. Exceptional Customer Experience: Customer service sets Shore Shade Sail apart – we always strive to exceed our customers' expectations. Our team of experts ensures that your shade solution is securely installed, providing not only immediate satisfaction but also long-term enjoyment. And our customer service doesn't come to an end with the purchase and installation of your shade solution. If your shade solution needs to be adjusted or repaired in the future, we are here to help. We provide warranty options that are designed to meet the needs of a variety of different customers.
Our shade solutions redefine outdoor comfort and protection, along with many other benefits. Contact us today to learn more about how to get started on your shade solution project.