Commercial
No matter the challenge, we can provide the shade solution.
We work with a variety of businesses and provide solutions to their shade needs. Whether it's expanding their customer base, providing protection, or creating a more enjoyable environment, Shore Shade Sail can provide the right solution.
Some of our current clients include businesses, such as:
Restaurants/wineries/breweries
Playgrounds/childcare centers
Community pools
Schools
Country clubs
Office buildings
Golf courses
Marinas
Parks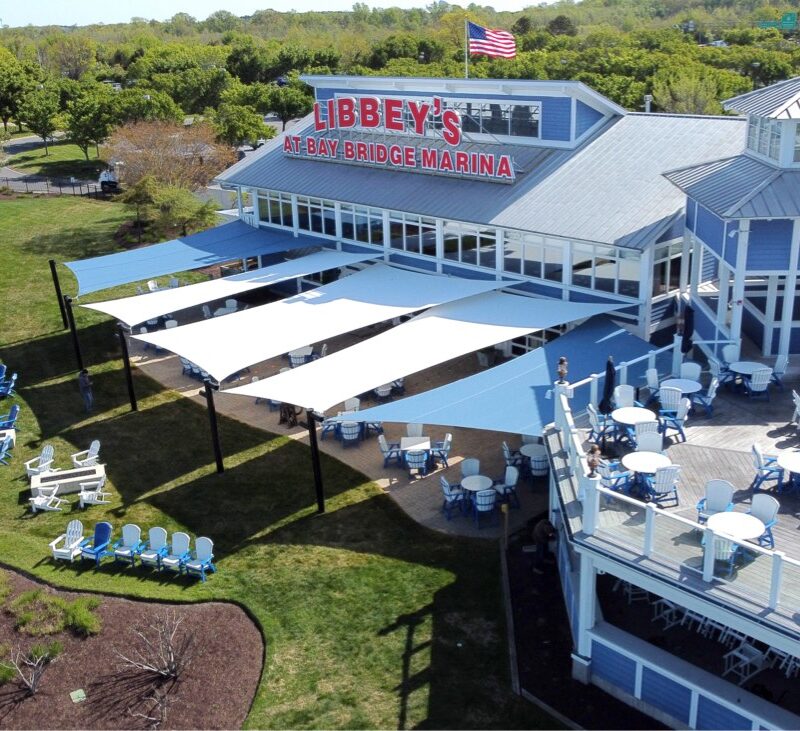 Our most popular commercial products include the following:
Awnings are versatile architectural additions that serve both functional and aesthetic purposes in various settings. These secondary coverings are typically attached to the exterior walls of buildings, extending outward to provide shade, shelter, and visual enhancement to windows, doors, patios, decks, or storefronts.
Functionally, awnings offer protection against the elements, shielding areas from intense sunlight, rain, and even light snow. By blocking direct sunlight, they help create cooler and more comfortable outdoor spaces, as well as contribute to energy efficiency by reducing indoor cooling needs. Awnings also provide shelter during inclement weather, allowing individuals to enjoy outdoor spaces regardless of weather conditions.
A Custom Shade Sail System is a versatile and contemporary shading solution designed to provide effective sun protection and a unique aesthetic to outdoor spaces. This system consists of strategically tensioned fabric panels that are suspended between anchor points to create a visually striking canopy. Customization is a key feature of this system, allowing for tailored designs that cater to the specific dimensions, shapes, and color preferences of the space and the user.
At the heart of the custom shade sail system are the shade sails themselves. These sails are made from durable and UV-resistant fabrics that are engineered to withstand various weather conditions while offering reliable protection from harsh sunlight. The fabric is carefully cut and stitched to match the desired shape and size of the shading area.
The Cantilever Shade System is a sophisticated and innovative outdoor shading solution designed to provide ample shade and shelter without the need for intrusive support structures in the middle of the covered area. This system is engineered to offer unobstructed space beneath the shade, making it an ideal choice for creating comfortable outdoor environments in various settings, such as patios, decks, poolside areas, and commercial spaces.
Typically, the cantilever shade structure consists of a robust and durable frame, often constructed from materials like steel, aluminum, or other weather-resistant alloys. This frame is designed to securely anchor to a fixed point, such as a building facade or a specially designed support structure. The cantilevered arm extends horizontally from this anchor point, with the shade fabric or material attached to it, effectively creating a generous shaded area underneath.
Frequently Asked Question
What is the process like when engaging with Shore Shade Sail?

Visit the process page on our website to learn more about our process and what customers can expect when working with Shore Shade Sail.

Are building permits required to install shade structures?

Building permits are dependent on where you live and on the size of the project. Our shade solutions and structures meet standard building permit requirements.

How are the shade structures anchored?

It is dependent on the recommended shade solution. In some scenarios, we can attach hardware to existing structures/building, and in other cases, we will insert aluminum poles onto the property and attach the shade sails to the poles.

Are the fabrics and materials waterproof/weatherproof?

Yes, our materials can withstand most weather conditions. We also provide a 10-year warranty on our fabrics and hardware.

How long do the fabrics/materials last?

Our fabrics and hardware are built to last, and we also provide a 10-year warranty option.

Is there a warranty/how does it work?

Option 1 – Service Agreement

Yearly fee (price varies depending on job)
Warranty to lifetime of shade fabric and hardware (10 years)
Parts and labor to lifetime of shade fabric and hardware (10 years)
Service agreement includes:

Putting up sails in springtime in a window of time specified by Shore Shade Sail
Taking down sails in fall in a window of time specified by Shore Shade Sail
Winter cleaning, storage, repairs

Option 2 – No Service Agreement

Included in price of shade system
1-year parts and labor warranty

Will I have a point contact for my project, even after completion?

Yes, and you can reach out to us anytime at info@shoreshadesail.com or 302-268-8877. We also have a warranty program, which includes maintenance, repairs, cleaning, and storage if necessary.