Types of Shade Solutions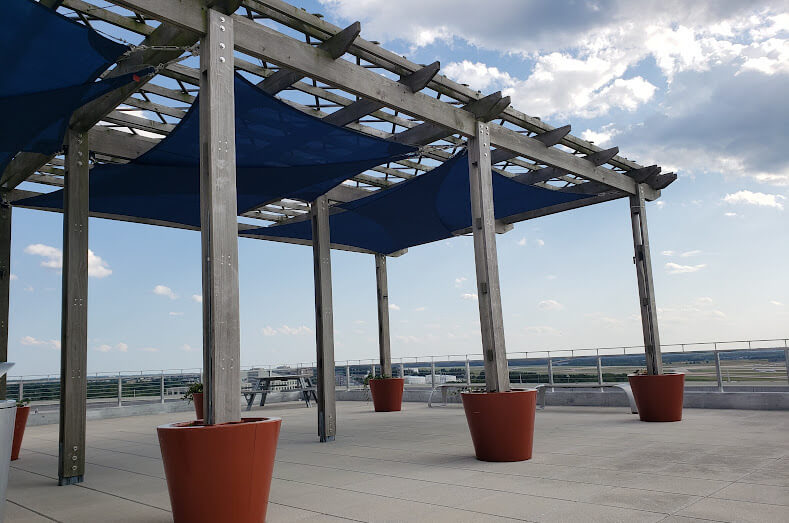 No matter the challenge, Shore Shade Sail can provide the shade solution. We work with a variety of commercial and residential customers to provide solutions to their shade challenges. Whether it's providing protection from the sun or creating a more enjoyable outdoor environment, Shore Shade Sail can provide the right shade solution for you.
Cantilever Shades are sophisticated and innovative outdoor shade solutions designed to provide ample shade and shelter without the need for intrusive support structures in the middle of the covered area. This system is engineered to offer unobstructed space beneath the shade, making it an ideal choice for creating comfortable outdoor environments in various settings, such as patios, decks, poolside areas, and commercial spaces.
Typically, the cantilever shade structure consists of a robust and durable frame, often constructed from materials like steel, aluminum, or other weather-resistant alloys. This frame is designed to securely anchor to a fixed point, such as a building facade or a specially designed support structure. The cantilevered arm extends horizontally from this anchor point, with the shade fabric or material attached to it, effectively creating a generous shaded area underneath.
Custom Shade Sails are versatile and contemporary shade solutions designed to provide effective sun protection and a unique aesthetic to outdoor spaces. It consists of strategically tensioned fabric panels that are suspended between anchor points to create a visually striking canopy. Customization is a key feature of this system, allowing for tailored designs that cater to the specific dimensions, shapes, and color preferences of the space and the customer.
At the heart of a custom shade sail system are the shade sails themselves. These sails are made from durable and UV-resistant fabrics that are engineered to withstand various weather conditions while offering reliable protection from harsh sunlight. The fabric is carefully cut and stitched to match the desired shape and size of the covered area.
Awnings are versatile architectural additions that serve both functional and aesthetic purposes in various settings. These secondary coverings are typically attached to the exterior walls of buildings, extending outward to provide shade, shelter, and visual enhancement to windows, doors, patios, decks, or storefronts.
Functionally, awnings offer protection against the elements, shielding areas from intense sunlight, rain, and even light snow. By blocking direct sunlight, they help create cooler and
more comfortable outdoor spaces, as well as contribute to energy efficiency by reducing indoor cooling needs. Awnings also provide shelter during inclement weather, allowing individuals to enjoy outdoor spaces regardless of weather conditions.
In the world of shade solutions, Shore Shade Sail offers options customizable to your very own shade needs. From restaurants to playgrounds, golf courses to office buildings, or even your own backyard, finding the perfect shade solution is essential to enhancing your outdoor space.
Read this blog post to learn about the benefits of custom shade solutions.